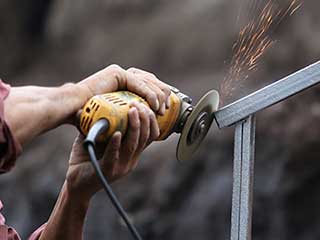 We are an energetic team with fully experienced professionals ready to handle any gate related issue you may be having. We are proud to say that all our service technicians are experts in their fields and will be able to advise you, regardless of the size, model or brand you have. You can trust us to diagnose your problem quickly, value your time, and provide the best course of action.
Looking After Your System
Gates should be serviced at least annually, failing to do this will mostly result in a non-functional gate that may squeak or in some cases won't open at all. It is important the moving parts are regularly lubricated and any loose bolts and nuts tightened. You can trust our experts to look after all of these things for you - we're also happy to offer advice to customers who wish to install new gate. Whether you're renovating or replacing an old one, we can help you find the perfect one for you.
Secure Gates For Businesses
We offer and install a range of gates for businesses. We provide high quality and sturdy models for heightened security. With the latest technology we have, we'll be able to introduce you to the most efficient and effective way to protect your business.
In Need Of A New Opener?
If your opener seems to have a life of its own and appears to be working unpredictably, we can help troubleshoot and repair the issue for you. If it turns out that it needs to be replaced, we can also take care of this for you.
More and more people are now opting for automatic units for a higher sense of security and more convenience. Our service technicians are open for consultation and can help you choose the right system for your home or business.
Contact Us Today
Our experts at Garage Door Repair Yucaipa have a great reputation for delivering solutions gate related malfunctions in a timely manner without sacrificing quality or safety. We value our clients and their suggestions, we'll be happy to listen to your needs and respond with the best solution for you. Give us a call today to discuss our services further!
Give our team a call if you need help with: