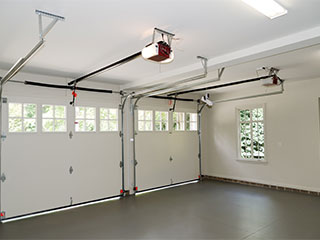 Every complicated electro-mechanical device like a garage door opener is bound to develop some problems over time. Our technicians have the expertise and the experience necessary to help you avoid a great deal of potential breakdowns and accidents.
Different Opener Types
Not all openers work the same way; there are three main types, each one with distinct benefits and disadvantages. The most cost-effective models are usually chain drive openers, which are reliable and affordable but also very noisy. Screw drive units are noisy too, but are extremely easy to maintain, making them an excellent choice for homeowners who don't wish to deal with the maintenance aspect. The third type, which are the belt-drive openers, are much quieter than their counterparts, but also more expensive. They're well-suited to applications where a noisy opener is a big problem; if there's a bedroom over or beside your garage, for example.
Servicing Your Unit
To keep your opener working at maximum efficiency for its full service life, it's essential to schedule regular maintenance inspections. Our technicians can ensure that every one of its components, from the rail and trolley to the circuit board and motor gear, are in a good working condition. We'll check for any signs of damaged or frayed wiring, and replace any part that shows signs of significant wear or rust. As part of this service our team will also perform safety sensor realignment, and make sure that your door is able to properly reverse when an obstacle gets in its way.
Additional Opener Upgrades
Many manufacturers now include additional capabilities within their garage door openers. Chamberlain's "MyQ" app allows homeowners to remotely operate their door using their smartphone, and other manufacturers like LiftMaster and Genie have incorporated rolling code technology into their models. This prevents would-be burglars from duplicating your door's remote control code, closing a potential gap in your home security.
Don't Wait To Contact Us
Whether you need safety checks, maintenance or an emergency repair, our team at Garage Door Repair Yucaipa is here to help. Contact us today to find out what we can do for your opener.
In addition, count on us for:
Oil Tempered Torsion Springs
Belt Drive Opener Installation
Part Replacement & Lubrication