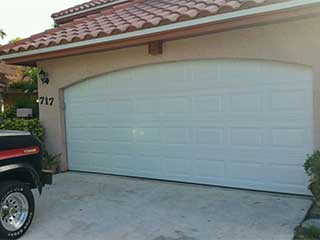 There are a lot of different services our professional technicians can provide you with. One of our strongest areas of expertise is regular garage door maintenance. By performing various tasks that ensure the optimal performance of your system, we can increase the working efficiency of your overhead door and make it last for a lot longer than it would otherwise.
Track and Roller Maintenance
We always start with a complete examination of your door system. Every hardware part gets its time under our proverbial magnifying glass so that we can make sure it isn't suffering from any hidden issues. If we find any dents in the tracks or worn out rollers, we'll repair or replace them (depending on the severity of the situation) on the spot. The quality of these components is far too important and should not be neglected.
Spring Adjustment is Important
Your door can become unbalanced over time, and it may start opening unevenly. That is a spring losing its tension. Dealing with these components is quite dangerous, so you'll have to stay back while our technicians carefully make sure the spring tension is adjusted. An unbalanced door can leave a gap which burglars and various pests can exploit.
Safety Sensors Need To Be Tested
The way your opener "knows" not to close your door while you're standing under it is by using a pair of "eyes", just like you. These photo-electric sensors are installed at the lower part of your garage's opening, one on each side. They send an invisible beam across the threshold and alert the opener whenever someone or something interrupts that beam. Misaligned sensors can make your door unsafe to use, or they could cause it to reverse for seemingly no apparent reason. That's why checking the sensor alignment is important, and our experts will do it during every service appoint.
Today Is As Good A Day As Any
Don't wait for things to go wrong. Contact our team at Garage Door Repair Yucaipa and schedule a maintenance appointment today. Your door will thank you. If it could speak, that is…
Our team can also take care of:
Roll up Garage Door Maintenance
Belt Drive Garage Door Openers
New Garage Door Installation