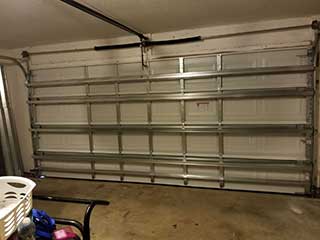 Your garage door needs to be looked after in order for it to be able to function optimally for a long time. The most important parts of the system are the springs, and they take precedent over a lot of other components. That's because of the dangerous nature of their operation and the important role they play.
Extension and Torsion
These are the two main types of springs that are commonly used. The extension type use a stretching and contracting action to pull your door off the ground, while the torsion type use torque based force. Both of them are very dangerous when mishandled, as is any component that stores such a large amount of tension. Torsion springs are usually used for heavier doors, as they are stronger and – because of the way they work – less likely to whip around when they break.
The Benefits of Spring Maintenance
Although these components have a limited lifespan, you can effectively extend their longevity by having them regularly serviced. Our technicians will lubricate them to keep their performance efficient and silent, and we'll also adjust their tension to prevent the door from slamming to the ground and getting unbalanced. This will not only improve the system's overall performance, but it will also add several hundreds if not thousands of functional lifecycles to your springs.
The Inherit Dangers
Replacing one of these components is a dangerous task. The tension involved poses a serious injury risk, which is why it is always best to leave this up to an expert. The danger isn't gone after a spring break. Oh, no. Your door depends on these components, and it can collapse if you try to open it before getting the broken spring replaced.
Experts At Your Service
Our team at Garage Door Repair Yucaipa can take care of any spring-related problem you may have. You can rest assured that any issue you let us handle will be solved quickly and effectively. Contact us today.
Need more? We also provide:
Liftmaster Garage Door Maintenance
New Opener Remotes & Clickers
Garage Door Cable Replacement
Overhead Door Repair & Installation